Kirt Blattenberger
Carpe Diem!
(Seize the Day!)

Even during the busiest times of my life I have endeavored to maintain some form of model building activity. This site has been created to help me chronicle my journey through a lifelong involvement in model aviation, which all began in Mayo, MD ...

Webmaster:
Kirt Blattenberger
BSEE - KB3UON
Family Websites:
RF Cafe | Equine Kingdom

All trademarks, copyrights, patents, and other rights of ownership to images and text used on the Airplanes and Rockets website are hereby acknowledged.
Sketchbook - Construction, Adjustment, Workshop Ideas

November/December 1963 American Modeler
One of the best ideas in this installment of Sketchbook, IMHO, is a method to quickly select balsa sheets of approximate equal density. It involves a flashlight and a light intensity meters (a phone app for the meter can be downloaded for that these days). Another neat suggestion is a way to make simulated rivets in thin aluminum foil. There is a list at the bottom of every Sketchbook page that has hyperlinks to all other Sketchbook editions published thus far.
This page has links to every edition of Sketchbook that I have so far.
Sketchbook - Construction, Adjustment, Workshop Ideas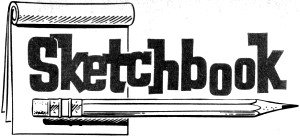 By H. A. Thomas
Got a new idea for construction, adjustment, or operation of model planes or R/C? "AM" pays $10 for each "hint & kink" used. Send rough sketch and description to Sketchbook, c/o American Modeler, Potomac Aviation Pub-lications, Inc., 1012 14th St., Washington, D.C. 20005.
Beginner's control line model can be fitted with adjustable wing guide to increase or decrease "pull." Kenneth Ries, Baltimore, Maryland, screws metal guide into hardwood inserts.

Quick supply of balsa dowels can be made from square section balsa strips tapped through nut held in vise. Light sanding finishes dowel says H. Muller, Danboro, Pennsylvania.

Utmost realism in simulating rivets in aluminum foil covering is knack of Michael J. Kiley, San Diego, California. Rivet bulges are flattened with eraser tip for authentic appearance.

Quick booster starts can be made by rigging contacts in finger and thumb of glove. Grasp glow plug and engine during cranking for contact. Idea from William Franco, Waynoka, Oklahoma.

To uniformly sand thin sheet balsa parts, Jerry Wagner, Tallahassee, Florida., uses two blocks, one with fine sandpaper, one with medium grade. Latter holds part in position.

Handy buffing wheel for polishing model parts is made of felt discs cut from old hat. Arrange on bolt, use in hand drill says H. Josephs, Gardenville, Pennsylvania.

Dependable, easy method of selecting balsa sheets of equal lightness is suggestion of Mike Dudeck, Harvey, Illinois. Meter readings indicate weight; uniform readings mean uniform weight.
Posted October 14, 2014

Academy of Model
Aeronautics

Tower Hobbies