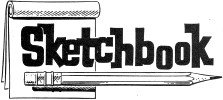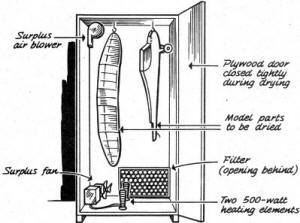 Special drying cabinet, built by Harry J. Miller, Sarasota, Florida, contains heating elements, filter and blower to speed up drying of painted parts and minimize dust nuisance.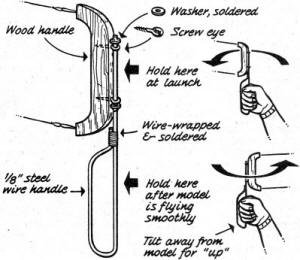 Once control line model is "in the groove," special . handle designed by Frank Kreiger, Shamokin, Pennsylvania allows "pilot" to stand without turning, holding handle above head. Tilt vertically for control.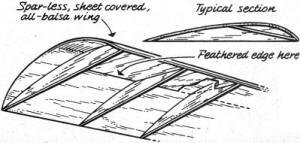 Well-known Austrian modeler, Franz Czerny suggests improvement for sheet balsa wings to enhance performance and strength. Addition of sheets between ribs adds torsional stiffness.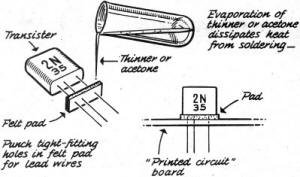 Vernon Van Diver, Jr., Woolford, Maryland, protects transistors from heat of soldering by felt or blotting paper spacers, saturating them with acetone or thinner for cooling by evaporation.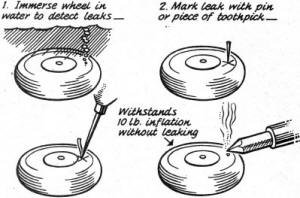 New life for leaky air wheels is tip from John Everett, Columbus, Ohio. Holes located underwater, marked, vulcanized by means of piece of rubber band and soldering iron. Worth trying!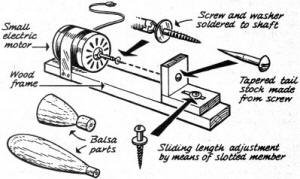 Handy for turning wing tanks, nose cones, spinners, of balsa is elemental lathe, assembled by Richard Gard, Casey, Illinois, from simple parts and electric motor.