Here is another round of helpful building suggestions by fellow modelers. Not many people are still soldering their own fuel tanks for control line models anymore, but the tip for making a soldering mask to control the flow of solder is applicable for just about any soldering job. There is also a really clever method for holding tail surfaces securely in place on fiberglass or carbon fiber arrow shaft fuselages like what are used for free flight and hand launched gliders.
This page has links to every edition of Sketchbook that I have so far.
Sketchbook
H. A. Thomas
Have a new idea for construction, adjustment or operation of model aircraft or RC? AM pays $10 for each 'hint & kink' used. Send rough sketch and description to Sketchbook, c/o American Aircraft Modeler, Potomac Aviation Publications, Inc., 1012 14th St., NW, Washington, D. C. 20005.
Masking material for soldering is a paste made by dissolving stick of chalk in water. Apply with brush around area to be soldered. After solder cools, wipe off chalk. Suggested by Eliseo Calvo, Mandaluyong, Rizal, Philippines.

D. A. George, Park Forest, Illinois, uses fiberglass arrow shaft for A-2 towline glider. To install fin accurately, spring-type clothespins are clamped onto shaft. Balsa strips wedged between ends of clothespins hold fin firmly to shaft.

Improved structure and easier assembly are advantages of geodetic wing, stabilizer frames designed by John E. Pfeifer, East Lansing, Michigan. Elongated ribs are moistened, scored and bent to fit in position for final cementing.

Trim, workmanlike hub assembly for rat-racer gear uses Allen head cap screw and blind mounting nuts. Special recesses are cut in aluminum hub. Submitted by John Schwartz, West Palm Beach, Florida.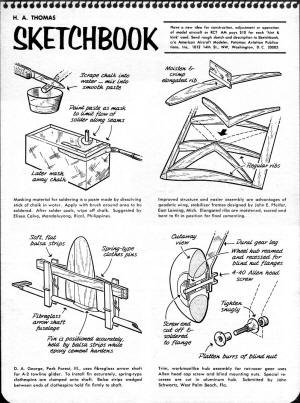 Posted June 13, 2014