Before just about everything you could ever think of needing for your aeromodeling hobby was made in China and sold here at a dirt-cheap price, resourcefulness and creativity, combined with some mechanical skill, was needed by most hobbyists. Even those who could afford to buy everything they needed were not always able to find it already made and hanging on the hobby shop wall. Improvisation was the order of the day. These monthly "Sketchbook" features are a prime example of what I'm writing about. Having read through many of the ideas in many issues of American Modeler, I am a little dubious about the practicality of some of them. For instance, I highly doubt that the string starter idea in this edition actually worked very well. That's an awfully short moment arm on the prop shaft for being able to pull fast and hard enough to turn over the engine. I just picked up my Cox PeeWee .010 and flipped the prop and I'd be very surprised if the pull starter would work on it. Yes, some of the .049 car and boat models came with pull starters, but the diameter of the cord wrapping pulley was much larger than that of #4 bolt. I'm just say'n...
This page has links to every edition of Sketchbook that I have so far.
Sketchbook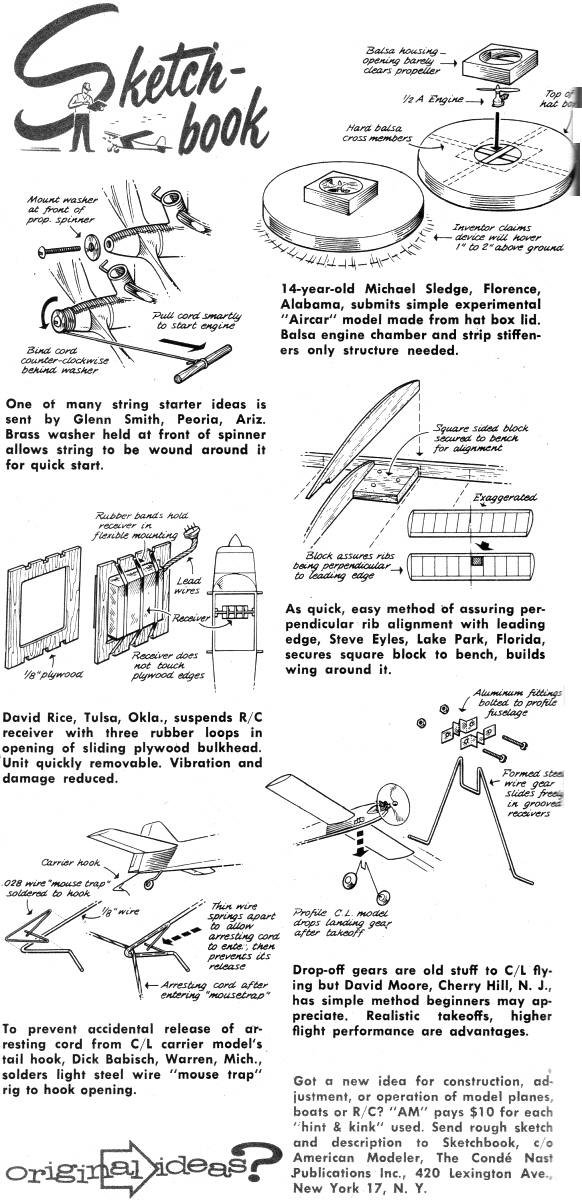 Sketchbook form March/April 1963 American Modeler
One of many string starter ideas is sent by Glenn Smith, Peoria, Ariz. Brass washer held at front of spinner allows string to be wound around it for quick start.

David Rice, Tulsa, Okla., suspends R/C receiver with three rubber loops in opening of sliding plywood bulkhead. Unit quickly removable. Vibration and damage reduced.

To prevent accidental release of arresting cord from C/L carrier model's tail hook, Dick Babisch, Warren, Mich., solders light steel wire "mouse trap" rig to hook opening.

14-year-old Michael Sledge, Florence, Alabama, submits simple experimental "Aircar" model made from hat box lid. Balsa engine chamber and strip stiffeners only structure needed.

As quick, easy method of assuring perpendicular rib alignment with leading edge, Steve Eyles, Lake Park, Florida, secures square block to bench, builds wing around it.

Drop-off gears are old stuff to C/L flying but David Moore, Cherry Hill, N. J., has simple method beginners may appreciate. Realistic takeoffs, higher flight performance are advantages.
Got a new idea for construction, adjustment, or operation of model planes boats or R/C? "AM" pays $10 for each "hint & kink" used. Send rough sketch and description to Sketchbook, c/o American Modeler, The Conde Nast Publications Inc., 420 Lexington Ave New York 17, N. Y.
Posted September 22, 2012