Kirt Blattenberger
Carpe Diem!
(Seize the Day!)

Even during the busiest times of my life I have endeavored to maintain some form of model building activity. This site has been created to help me chronicle my journey through a lifelong involvement in model aviation, which all began in Mayo, MD ...

Webmaster:
Kirt Blattenberger
BSEE - KB3UON
Family Websites:
RF Cafe | Equine Kingdom

All trademarks, copyrights, patents, and other rights of ownership to images and text used on the Airplanes and Rockets website are hereby acknowledged.
Sketchbook

May/June 1963 American Modeler
Before just about everything you could ever think of needing for your aeromodeling hobby was made in China and sold here at a dirt-cheap price, resourcefulness and creativity, combined with some mechanical skill, was needed by most hobbyists. Even those who could afford to buy everything they needed were not always able to find it already made and hanging on the hobby shop wall. Improvisation was the order of the day. These monthly "Sketchbook" features are a prime example of what I'm writing about. Having read through many of the ideas in many issues of American Modeler, I am a little dubious about the practicality of some of them.
This page has links to every edition of Sketchbook that I have so far.
Sketchbook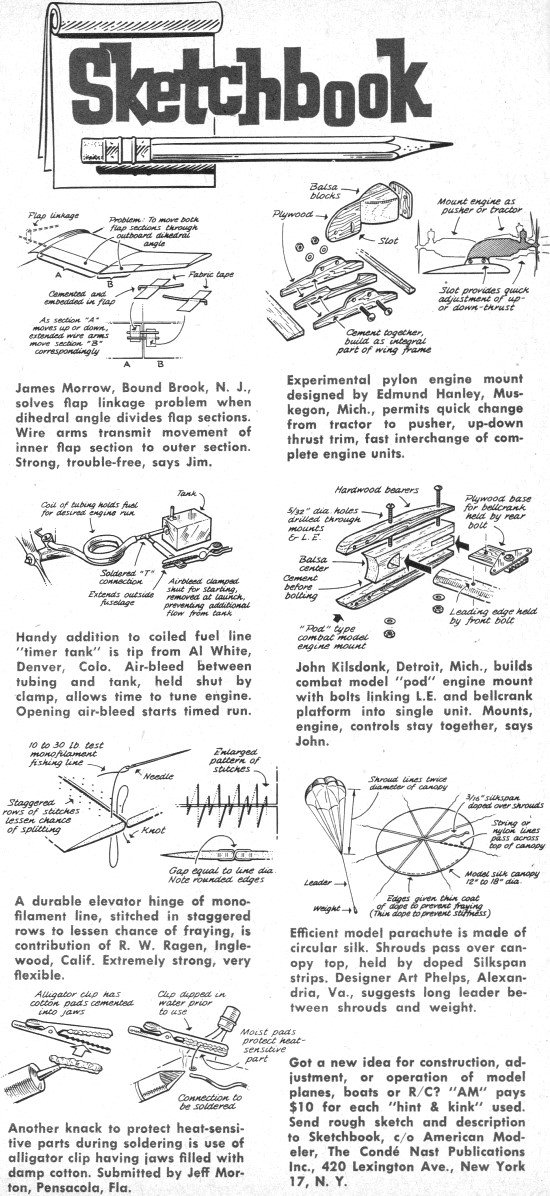 Sketchbook form May/June 1963 American Modeler

James Morrow, Bound Brook, N. J., solves flap linkage problem when. dihedral angle divides flap sections. Wire arms transmit movement of inner flap section to outer section. Strong, trouble-free, says Jim.

Handy addition to coiled fuel line "timer tank" is tip from AI White, Denver, Colo. Air-bleed between tubing and tank, held shut by clamp, allows time to tune engine, Opening air-bleed starts timed run.

A durable elevator hinge of monofilament line, stitched in staggered rows to lessen chance of fraying, is contribution of R, W. Ragen, Inglewood, Calif. Extremely strong, very flexible.

Another knack to protect heat-sensitive parts during soldering is use of alligator clip having jaws filled with damp cotton. Submitted by Jeff Morton, Pensacola, Fla.
Experimental pylon engine mount designed by Edmund Hanley, Muskegon, Mich., permits quick change from tractor to pusher, up-down thrust trim, fast interchange of complete engine units.

John Kilsdonk, Detroit, Mich., builds combat model "pod" engine mount with bolts linking L.E. and bellcrank platform into single unit. Mounts, engine, controls stay together, says John.

Efficient model parachute is made of circular silk. Shrouds pass over canopy top, held by doped Silkspan strips. Designer Art Phelps, Alexandria, Va., suggests long leader between shrouds and weight.

Got a new idea for construction, adjustment, or operation of model planes boats or R/C? "AM" pays $10 for each "hint & kink" used. Send rough sketch and description to Sketchbook, c/o American Modeler, The Conde Nast Publications Inc., 420 Lexington Ave New York 17, N. Y.
Posted September 30, 2012

Academy of Model
Aeronautics

Tower Hobbies